Menu

Link Us

Disclaimer

Author Credit is given on a simple basis. We credit the person who sends the mod in, and says "I wrote this" if you see your work here, and its credited to someone else contact us first then we can research it. Please remember more than one person can make the same mod.
Recent Threads

News

MMOUI's 10th Anniversary Challenge Winners – Update
Oct 05, 2023 - 5:08 AM - by Cairenn

I know that a number of people are wondering what the status is with their prizes. I gave all the winners two weeks to respond to the notification emails I sent. That two week period is now up, so those that didn't respond have forfeited their prizes. I have just finished drawing new names in their places and sent them notification emails. Again, I will be giving them two weeks in which to respond. Hopefully it won't go to a third drawing. Bestes Online Casino

Once all prize winners have confirmed their acceptance of their prizes, I will be able to start sending the prizes to those winners. I will email all confirmed winners when I ship their prizes. My apologies for the delay.

2 Replies | 133 Views
10th Anniversary Challenges Now Closed
Sep 13, 2023 - 1:51 AM - by Cairenn

Thank you to everyone that participated in our 10th Anniversary celebrations. We hope you had fun with the trivia challenges. All challenges are now closed. We will be drawing names and contacting winners over the next few days - we've got a lot of people to contact! After we've contacted the winners and confirmed their acceptance of their prizes, we will post a list with the names of the winners for each of the sites.

Again, thank you all for a great 10 years. We can't wait to see what the next 10 will bring!


0 Replies | 213 Views
Reminder about MMOUI's 10th Anniversary Celebration!
Sep 06, 2023 - 12:31 PM - by Cairenn

We are three quarters of the way through our 10th Anniversary Celebration! If you haven't already done so, there is only one week left for you to read our About Us write-up and our Timeline. Then try our Trivia challenge for your chance to win a prize on whichever of our site(s) you use. Go here or click on the image below to get started.

0 Replies | 243 Views
Come celebrate with us!
Aug 16, 2023 - 5:59 PM - by Cairenn


We are so excited, and proud, to announce that we are celebrating our 10th Anniversary! It is hard to believe that it has been 10 years since we opened our first site, EQInterface. 10 years of creating friendly, helpful and supportive communities for those that enjoy customizing their MMORPG user interfaces. 10 years of providing a safe place for people to upload, download and maintain those custom UIs. The time has simply flown by! On top of that, we have close to a million registered users - and since we don't require registration to download from our sites, you can bet that number is exponentially higher!

There is a write-up about our sites: things we have done and are doing for the communities, our roles in the various MMORPG UI communities over the years, etc. for you to read (where we unashamedly say how awesome we are and why). As well, we have done up a timeline of our network for the last ten years. Plus, what's a celebration without games and giveaways?

So, we're holding trivia challenges on all of our sites. There are 10 questions on each site: each question has three answers to choose between and there is only one correct answer for each question. Each correct answer will give you an entry into the giveaway on that site. Some questions may be the same across all of the sites and some may be different.

We've partnered up with the different game companies to have nifty stuff to give away. There will be different prizes on each site, swag that is appropriate for that particular community. It's our way for thanking you for all the support you've given us over the years. We wouldn't be here celebrating 10 years if it weren't for you, our communities.

As well, we have a bonus prize exclusively for our registered users. We have 80 (yes, you read that right, 80) headsets we are giving away. All you have to do is take a 30 question survey to be entered for your chance to win a GameCom 380 Headset. Once you get through the trivia challenge, be sure to do the survey and be entered for a chance to win. Nettikasinot

Check each site's trivia challenge page to see the prizes being offered for that site, as well as the rules for the game. Make sure that the email address associated with your MMOUI account is correct and current, as that is how winners will be notified. Any winner who can't be contacted by email forfeits their prize and another winner will be selected in their place.

From dolby and myself: Thank you all for a fantastic 10 years. Here's to the next 10! We hope you have fun with the trivia challenge and good luck to everyone for the draws!

0 Replies | 299 Views
VG Now Free to Play!
Aug 14, 2023 - 4:18 PM - by Cairenn

Join a community of thousands! Soar above the breathtaking landscape of Telon on the back of your very own dragon! Choose from six races and seven classes to customize your character – or become a Gold Member and choose from nineteen races and fifteen classes. Take advantage of a groundbreaking, dynamic combat system that rewards split-second reactions and on-the-fly combinations. slot online

The challenge awaits: are you bold enough?

Get in the game now and receive a special Welcome Pack of in-game items just for you.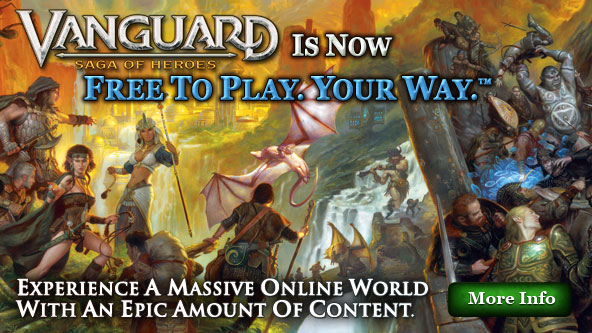 Experience massive content that continues to evolve.
Choose from 6 unique Races and 7 distinct Classes to play though 55 levels of power – Play all Classes through level 20.
Three huge continents to explore in a seamless world.
Join Guilds with a thriving and vibrant community.
Multiple character slots available per account. caça niquel
Participate in several seasonal and holiday events throughout the year.
Access to Broker System, In-Game Mail, and unlimited Chat.
Optional Content Available for Purchase



0 Replies | 773 Views
New & Updated

Top Favorites

Most Downloaded

Top Rated